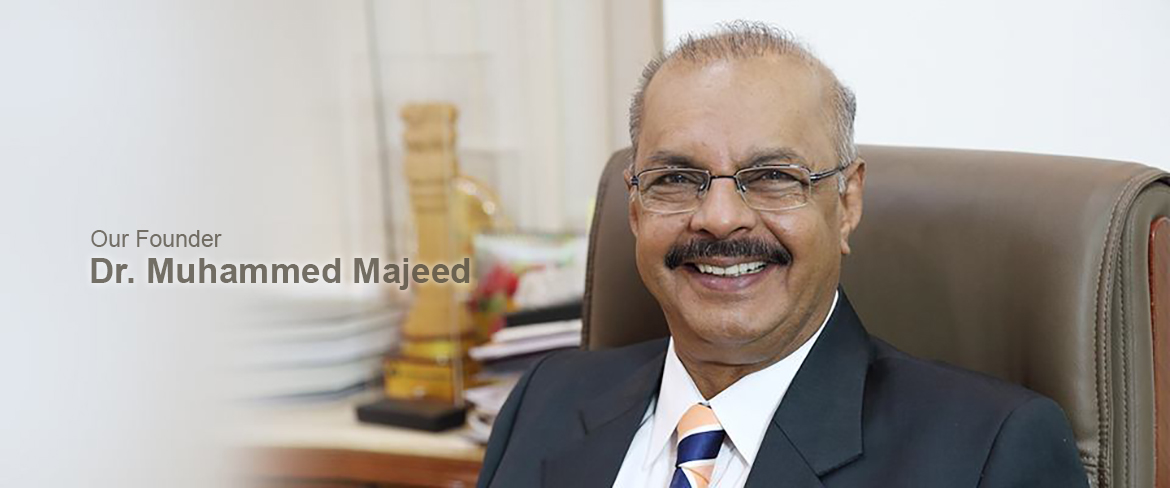 Short Biography
Dr. Muhammed Majeed was born and raised in Kerala, India. He has over 45+ years of experience in the pharmaceutical, biotechnology, molecular biology, nutritional and cosmetic industries. He introduced to the Americans "Ayurveda", the traditional Indian medicine that has for ages been believed to act as a complete curative to their various ailments. After persistent efforts by Dr. Majeed they started recognizing the potential of Ayurveda and termed it the Evidence Based medicine. By 2000 it became popular as the Complementary medicine and now it is called as the Integrated medicine.
After taking B Pharm from Trivandrum Medical College, Dr. Majeed went to The US in 1975 to take MS in Pharmacy and Ph.D. in Industrial Pharmacy. He worked with some of the major pharmaceutical companies like Pfizer which earned him valuable experience in the latest technology in healthcare products formulations.
From here, he chose to establish himself as an entrepreneur by integrating technology with Ayurveda. It was the beginning of a new success story. He came out with new healthcare products with their actives taken from the herbs and also researched into the medicinal values of some plants which are not mentioned in the Ayurvedic texts.
More about Dr. Muhammed Majeed: Wikipediadrmajeed.comAwards
---
From Founder's Desk
July 3, 2017
Adulteration with Synthetic Curcumin Risks Industry's Future; Industry and Regulatory Agencies Must Act
We've passed the point of giving a "heads up" as a courtesy to the industry and must issue a call to action. It's been a quite some time since we first began raising our voice against adulteration of natural Curcumin, which we believe represents one of the biggest challenges that the natural products industry has ever faced. Invasion of synthetic Curcumin in the dietary supplement industry has become far more rampant than we thought earlier, risking consumer health and undermining the credibility and sustainability of the industry.
Natural Curcumin is a group of 3 bioactive components present in turmeric, viz. Curcumin, demethoxycurcumin (DMC) and bisdemethoxycurcumin (BDMC), collectively termed as 'Curcuminoids', which research indicates have synergistic action in promoting an array of health benefits. However, synthetic Curcumin is nothing but the copy of all three or any one or two of these bioactives, and usually made from petroleum-based chemicals. And we need not say that unlike natural Curcuminoids, this sham material certainly lacks any proof of long-term safety, let alone beneficial health effects.
It appears that the ever-increasing popularity of Curcumin has become a threat to its very sustainability. Booming sales suggest that, today, Curcumin has become the top-ranking herbal supplement in the U.S. market. Its future sales are predicted to continue to grow. However, as the industry has witnesed in the past when an herbal product becomes popular, continuous supply of authentic high-quality raw material becomes challenging—previously contracted harvests can suddenly disappear. This creates an unbalanced supply and demand state. Resultantly, certain industry outliers have grabbed this opportunity to infiltrate the market with synthetic versions disguised as naturally derived, or spiking natural Curcumin with synthetic Curcumin.
A number of fair players in the ingredient marketplace are feeling the impact of quacks resorting to unethical introduction of synthetic Curcumin masquerading as natural Curcumin because it is much cheaper to produce and doesn't rely on harvested turmeric. This unethical and illegal practice does more than eat up the market share of the fair business players like Sabinsa who have invested in producing quality natural material. It poses a serious threat to industry growth in undermining innovation, intellectual property rights infringements, and undercutting years of dedicated research and efforts in bringing out a novel product for the benefit of customers. Synthetic adulteration will also inevitably come to the attention of consumers, sabotaging confidance and sales.
While the industry is being flooded with spurious and inferior Curcumin imitations, agencies and organizations like the US Food and Drug Administration (FDA), the Committee on Herbal Medicinal Products (HMPC), American Herbal Products Association (AHPA), United Natural Products Alliance (UNPA), Natural Products Association (NPA) have not taken the aggressive action on this blazing issue that it demands given the level of harm it is doing. At the same time, industry trade groups are vigilant in responding to negative media coverage criticizing bad science or lack of science, or positioning dietary supplements either as dangerous, unregulated or exerting no benefits. The synthetic adulteration issue is doing a vast amount of harm to the industry, so we call on them to become far more proactive in the synthetic adulteration battle.
Hence, it is the duty and responsibility of all the like-minded, ethical firms, trade organizations and concerned regulatory agencies to work together in safeguarding the honor and viability of the industry by expunging those deceitful companies and practices that undermine quality and grind down standards in the entire industry. Moreover, it is equally important to respect and support the diligent and constant dedication of companies that honestly work towards providing high-quality, scientifically-validated natural products that help improve human health and wellbeing. That is where the innovation that drives the industry forward happens, and it's short sighted not to protect it.
What can you, the reader, do? If you are a formulator, specify ingredients that are guaranteed to be of natural origin. Brands can do the same, and reassure their customers that their product testing programs include confirming 100% natural Curcumin. Retailers can ask the manufacturers whose products they carry how they ensure Curcumin ingredients are truly from turmeric root. Consumers can make sure they are taking products with real Curcumin by asking brands how they confirm it. Had this approach been taken in the past when booming popularity of an herb led to rampant adulteration, the industry could have prevented significant erosion of the market for those herbs. Working together we can avoid that fate for Curcumin.
Adulteration with hidden synthetics is not only the opposite of transparency but also misleading to consumers and potentially causes them harm. Sabinsa is ever dedicated to, and in the forefront of, efforts to clamp down on deceptive practices by crooks trying to increase their profit margins by passing off cheaper and potentially harmful synthetic version of Curcumin as natural. By Sabinsa's staunch advocacy of the Curcumin market's longevity, we contribute something even more enduring than what our strong science endeavors and patent on Curcuminoids did for the past 20 years.
---
June 19, 2015
Dear Esteemed Customer,
Let us face it. Natural product industry is facing its biggest challenge now. On top of the misguided genomic testing, we are now faced with adulteration of natural products especially Curcumin.
As the dietary supplement industry in general and herbal products specifically experience unprecedented levels of negative media coverage and legal action on a regional level, those of us with a long-term commitment to this industry must exhibit leadership. Those of us who have spent our careers making and selling products to improve the health of our fellow human beings know that those writing and saying dietary supplements are either dangerous, unregulated or have no benefit are mistaken, and most of the criticism is unfounded.
While much of the criticism is based upon bad science or lack of knowledge, such as testing extracts with a method no true expert would ever use, those of us immersed in this industry know that there are vulnerable points, particularly in the ingredient supply chain. I believe that Sabinsa is not alone in being dedicated to providing high quality, science-based products to enhance human health and well being, and I call on like-minded companies and the industry's trade associations to weed out those companies and practices that undermine quality and erode confidence in the entire industry.
We've spoken in the past of the importance of respecting and honoring Intellectual Property, which we believe is essential for continued innovation. Recently we have discovered a new threat that must be stamped out to preserve the integrity of the industry and safety of the products we all make.
We have discovered synthetic Curcumin being sold as Turmeric extract with forged Certificates of Analysis. A company selling Curcumin extract in India for export to the US was adulterating their product with 43% synthetic curcumin, but not revealing the synthetic contents. We have taken legal action against them, and a criminal investigation has been opened, but it is important the entire industry be on the lookout for more of this adulteration. I believe it is far more rampant than we thought.
With Curcumin sales in the US alone growing so quickly, it isn't surprising that there are those looking to sell cheaper, inferior product into the marketplace, but we believe this deceptive practice threatens the future. Our fear is that there are other botanical extracts that are similarly adulterated. We just don't know, but it's likely, and the industry needs to find out.
The obvious questions with synthetic herbs are "what was it synthesized from? What chemicals were used, and in what process? How do you know it is safe for consumption by humans?" Synthetically made materials may have distinctively different pharmacological activities compared to natural products. If a company is selling synthetic Curcumin, and not identifying that some or all of it was synthetically derived, that lack of transparency is not only misleading consumers who think they are taking a product derived from Turmeric root, but has the potential to hurt people.
FDA views synthetic versions of natural botanical compounds as different from the botanical itself, thus a supplier of such material would be required to file an NDI notification with FDA, including proof of safety, for the products to be legally sold in the US.
Synthetic copies are, however, difficult to trace in a product using routine analysis. Plant-derived products can be distinguished from synthetic products by their content of natural carbon activity. The use of DNA testing for herbal extracts is debatable, however we know the DNA technique fails when it comes to finding adulteration with synthetic material. Therefore identification and quantification of radiocarbon in these cases provides an accurate way to detect adulteration.
As the industry gets more serious about quality issues, identifying synthetic versions of herbal products becomes crucial. We call on the trade associations and all companies committed to the future of the industry to work together to discover how widespread this deceptive practice is, and to take action to weed it out.
With Best Wishes,
Sincerely,
Dr. Muhammed Majeed
Founder
Sabinsa/Sami Group of Companies
---
March 10, 2014
Dear Esteemed Customer,
You've likely noticed that we have been talking a lot about Intellectual Property issues within the dietary supplements industry lately, not just in the United States, but abroad as well. We feel it's an important conversation to keep having, because it directly impacts innovation, which is what drives our industry's growth. For our industry to be sustainable as the market matures, the historical practice of IP infringement must stop. While we remain committed to this undertaking, we will have no choice except to take legal recourse to those who blatantly infringe.
Among the 87 patents now held by Sabinsa and Sami Labs, seven are specific to an ingredient we trademarked as BioPerine®, Sabinsa's standardized 95% piperine extract that has been shown in clinical research to increase the absorption of nutrients in nutritional supplement formulations.
After a sizable investment of time and resources, we determined that a 95% purified piperine extracted from pepper was able to enhance the absorption and bioavailability of a large array of dietary ingredients, safely and effectively. The enormous investment Sabinsa made has resulted in seven patents on BioPerine®, with its clearly novel use and process. These patents are strictly enforced in the United States (US 5,536,506; US 5,744,161; US 5,972,382; US 6,054,585), Canada (CA2247467), Europe (EP0810868) and Japan (JP3953513).
Today, black pepper extract is a relatively well known ingredient in nutritional supplement formulas as a bioavailability enhancement ingredient. Prior to Sabinsa's introduction of BioPerine®, it was unheard of.
The first patent on BioPerine® was issued in 1996, US Patent number 5,536,506 "Use of Piperine to Increase the Bioavailability of Nutritional Compound." A subsequent US patent, 5,972,382 "Use Of Piperine As A Bioavailability Enhancer" was issued in 1999 and reaffirmed by the US Patent Office's formal review in 2006.This assessment reaffirms that BioPerine® is the only black pepper extract that can legally be used in nutritional supplements for the purpose of enhancing the bioavailability of nutrients and the only reason for using this in any nutritional formulations.
BioPerine's ability to enhance nutrient absorption and bioavailability has been well researched. Published clinical evidence of safety and efficacy further support the use of BioPerine® incorporated in dietary supplements. When BioPerine® was administered orally to healthy humans, the serum levels of tested nutrients significantly increased:
Blood levels off at-soluble beta-carotene, when taken with BioPerine® for two weeks, increased by 60% over the control group receiving the vitamin alone.
Vitamin B-6 ingested with BioPerine® resulted in 2.5 times higher blood levels in only two hours.
A six week supplementation program of selenium (in the form of selenomethionine) with and without BioPerine®, resulted in a 30% increase in serum levels of selenium in the BioPerine® group as compared to the control group.
A human study involving the simultaneous administration of BioPerine® with CoQ10 yielded an absolute increase in blood serum levels of 30% as well.
University of Wisconsin published a study on animal models showed enhanced bioavailability of resveratrol when administered with BioPerine®.
Use of BioPerine® in enhancing the bioavailability of curcumin was published nearly 15 years ago and independently validated by several researchers even today.
Clearly BioPerine® works, which explains all of the patent-infringing ingredients on the market today.The pioneering efforts behind BioPerine's success have created tremendous competitive envy, and unfortunately, this has taught many a lesson when we last pursued legal action. Yet, it is this same action we are willing to take again, for the sake of the industry and for our loyal customers.
We encourage companies that are utilizing piperine extract in their formulas to execute a licensing agreement with us if they have not done so already. It not only offers total protection to your brand, but is also supported by published science on BioPerine®.
To learn more, contact your Sabinsa sales representative today, or visit www.bioperine.com, www.sabinsa.com, or reach us at info@sabinsa.com.
Sincerely,
Dr. Muhammed Majeed
Founder
Sabinsa/Sami Group of Companies
---
January 01, 2014
Dear Esteemed Customer of Sabinsa,
We are immensely pleased to greet you at the beginning of this New Year 2014 and share with you some very exciting news.
The motto of our company simply reads, Our Innovation Is Your Answer, to which we have dedicated the pursuit of standardizing the hidden treasures in medicinal plants that are beneficial for mankind. Along the way, Sabinsa Corporation has created 87 globally acclaimed patents with an equal number pending worldwide. With over 6% of our revenue invested in R&D year after year for the last quarter of a century, employing over 100 senior scientists in research, six state of the art accredited manufacturing facilities, over a 1,000 dedicated employees, a robust cultivation program utilizing 6,000 farmers who cultivate and produce high quality medicinal plants, and with a presence in over ten countries with our own offices, Sabinsa is occupying the leadership position in the industry today.
It is at this position I write to you today, as I Iook upon an ingredient that we introduced nearly 20 years ago, and the patent that is meant to protect it, the industry's own Curcumin C3 Complex®.
By the scientific and clinical evidence that is being received currently,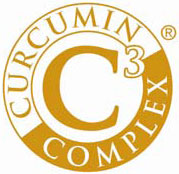 the year 2014 is going to be the year of Curcumin C3 Complex. This is the time to decide how we, as an industry, are going to handle the expansion of consumer demand for Curcumin, which will have a significant impact on how large the market grows and the longevity of that market. Quite simply, we want to ensure that consumers are using products that work, consistently. We believe that requires C3 Complex, and here are some reasons why:
The Most Clinically Studied Curcumin Brand
More than sixty-five scientific publications, including clinical trials, have been published using Curcumin C3 Complex.
The Most Safety Data
Sabinsa's C3 Complex is the only Curcumin in the market that has been reviewed and acknowledged by US FDA for GRAS status, a process which includes a comprehensive review of safety and toxicology data. Because our process is patented & proprietary, the safety data is not applicable to other Curcumin products.
The Most Patents - IP Protection
Sabinsa holds multiple valid patents covering composition of curcuminoids, method of manufacture, and uses. The US patent 5861415 and EP 0839037 cover a bio-protectant composition consisting of the three curcuminoids in specific ratios. The methods of use of the composition as an anti-oxidant, as well as protection of biological tissues from damage, also form part of the claims. In fact, the solvent ethyl acetate is as an extraction medium covered by our Patent issued back in 1996. Sabinsa will continue to enforce its rightful patent rights whenever possible, which benefits our customers and the consumers at large.
The Most Stable Supply Chain
Sabinsa's cultivation programs ensure a stable supply, providing our farmer partners with technical support and advice, financial help, and incentives to motivate the farmers to grow crops in a sustainable manner using modern technology. In the past years while there was shortage of turmeric in the market, Sabinsa was able to provide an uninterrupted supply of genuine Curcumin C3 Complex to our loyal customer base at competitive prices. Our technical support to farmers also produces a higher quality raw material, so the superiority of C3 Complex begins literally at the ground level.
More Proven Bioavailability
In the recent past there has been a disproportionate emphasis on the role of bioavailability alone, which is not and should not be the sole criterion for judging the therapeutic effect of Curcumin. While one could simply dismiss those claims as marketing hype, we do enjoy demonstrating our superior understanding of Curcumin developed over the past 25 years, so please stay with us while we explain.
Emphasis on increasing bioavailability alone is by no means a substitute for properly designed and conducted clinical trials that examine what happens to a Curcumin product in the body. We don't believe making the assumption that increasing initial bioavailability is valid without doing the work to make sure the resulting substance does what it is supposed to do.
When assessing the bioavailability of Curcumin in the body, ignoring the role of Curcumin's metabolites reveals a lack of knowledge and expertise. Curcumin metabolizes to mainly Tetrahydrocurcumin, Curcumin glucuronides and sulfates. While the positive effects of Tetrahydrocurcumin have been recognized, most bioavailability studies have ignored quantifying the bioconversion of Curcumin into this efficacious metabolite, Tetrahydrocurcumin. The importance of this metabolite has recently been reemphasized in the publication, M. Kobayashi et al, Proc Nat Acad Sci USA 2011, 108, 6615-6620. However, the bio-efficacy of the glucuronide and sulfate metabolites has not been established. A recent publication has referred to Curcumin glucuronide being unable to effect mitotic catastrophe, an important step in preventing proliferation of some cancerous cells (J S Dempe, E Pfeiffer, A S Grimm, M Metzler, Mol. Nutr. Food Res., 2008, 52, 1074-1081). In a recently published study in Bioorganic & Medicinal Chemistry 2013 (DOI 10.1016/j.bmc.2013.11.006), scientists at MD Anderson Cancer Center, Univ. of Texas found that curcumin glucuronides show very little anti-proliferative activity against human cancer cell lines and have no inhibitory effect on NF-kB, thus lacking the anti-inflammatory activity of Curcuminoids.
Sabinsa has made a tremendous investment over many years in understanding and altering the bioavailability of Curcumin, including conducting clinical trials. Our scientists found that Piperine, traditionally part of Ayurvedic formulations such as Trikatu, can be an useful adjuvant for Curcumin to increase its bioavailability safely. A clinical study done at St. John's Medical College, Bangalore, India and published in Planta Medica in 1997 provided clinical evidence of piperine's role in increasing the bioavailability of Curcumin, and has become one of the most downloaded papers of that journal.
Sabinsa has not only invested in research in making the product more bioavailable, but also initiated, supported and invested in several clinical trials on C3 Complex to increase the knowledge of our Curcumin's effect after absorption.
No One Knows Curcumin Like We Do
Sabinsa assisted the United States Pharmacopeial Convention (USP) in preparing recently published monographs on curcuminoids and turmeric, and in developing validated analytical methods. Additionally, Sabinsa supplied reference standards for the individual curcuminoids to the USP. These monographs are published in the Pharmacopeial Forum 33(6), Nov- Dec 2007. This elicited a note of appreciation from USP.
We believe these are compelling reasons for us to work together in bringing the benefits of Curcumin to our valuable and deserving consumers in 2014, while respecting and protecting the intellectual properties of this treasure. It has become imperative that we protect our rightful intellectual properties. We are, therefore, initiating appropriate steps in this direction and seek support from quality conscious and ethical business enterprises like yours. While seeking your whole hearted support in our endeavor, we eagerly look forward to answering any questions that you may have on our Curcumin or any of Sabinsa's patent protected ingredients.
WE WISH YOU A VERY HAPPY NEW YEAR!
Kind regards,
Dr. Muhammed Majeed
Founder, SAMI/Sabinsa Group of Companies
---
February 01, 2012
Buy One (1) Kg Patented Ingredient, Add Nine (9) Kg Generic "Equivalent" and Claim Patented Product Benefits
Innovation and science are what drive the Nutraceutical industry worldwide. Today, numerous clinical studies published in peer-reviewed journals for such ancient herbs as curcumin and pepper are putting previously obscure herbs in the mainstream of systemic disease prevention and treatment.
But there is a systemic disease that threatens the future of our industry by undermining investment in science and consumer confidence. There are some companies that think it's smart business to buy one kg of a patented ingredient and nine kgs of a generic "equivalent" but use the patented product claim on their marketing materials and labels. These unscrupulous marketers are exploiting the credibility of the branded ingredient to their advantage, citing clinical studies and quality criteria on the branded ingredient that are not actually applicable to the diluted product.
Manufactured products containing such diluted ingredients which fail to meet quality standards or are proved to be non-efficacious in biological testing, have detrimentally affected the credibility of the branded ingredient.
The fact that this is unethical aside, this practice cheats the consumer, and undermines investment in future innovation and clinical studies to grow the industry. Generic "equivalents" are anything but equal in quality and activity, cheating the consumer of the health benefits they expect and deserve. It also robs those companies who invest in good science from the capital to continue doing so.
Sabinsa investment in research and patents, and the pivotal role of these efforts in garnering credibility for scientifically validated ingredients, is a case in point. For example, our BioPerine® patent brought out the concept that it is not what you eat, but what you absorb that is important in the area of nutrition. This formed the basis of a fundamental paradigm shift in how we approach supplementation. Numerous scientific publications in subsequent years validated this concept.
Another example is our C3 Complex®, the material of choice by researchers documenting the significant health benefits of curcumin because of the consistent quality we guarantee. This is truly a premium product in all senses of the word - the finest curcumin in the marketplace.
Each one of our brands, backed by scientific research, have brought little known traditional phytonutrients to the forefront, generating greater demand for these herbal extracts or nature-identical materials.
For more than two decades, Sabinsa has invested in science and innovation, and has more than 70 patents to show for it. We are committed to continuing on this path, and protecting our intellectual property in order to continue that investment. We look forward to being your partner in providing the highest quality science backed, innovation products available.
With Best Wishes,
Sincerely,
Dr. Muhammed Majeed
Founder
Sabinsa Corporation
---
September 21, 2003
An Open Letter to our friends in the Nutritional Industry:
In the early part of 1996, Sabinsa pioneered the concept of enhancing the bioavailability of nutritional /dietary supplements with the introduction of BioPerine®. Many of you have embraced the use of BioPerine® (Black pepper extract) and included it into your formulations. In 1998, we introduced a novel and previously unknown use for Coleus forskohlii (ForsLean®) for promotion of lean body mass in weight management. The response to this product has been overwhelming. We thank you for your support in the use of these products.
Encouraged by the Nutritional industry, Sabinsa continues to invest in research on these products and continues to cover the usage of BioPerine® and ForsLean® with additional U.S., European and International patents.
From 1996 until today, many companies have taken our science (and our Intellectual Property), and ascribed it to generic material in their formulas. Such activities continue in light of our open efforts to educate these companies, and the industry, on intellectual property rights and patent infringement. It is against this background that Sabinsa made the decision to seek legal protection and remedies for our intellectual property and patent rights.
At no time have we intended to harass the industry that provides the very basis of our existence. Again, it is the few companies that continue to ignore the property rights of others, that infringe on intellectual property without regard to the owners, that Sabinsa has decided to take legal action against those who violate the law to protect our rights.
In the months and years ahead, Sabinsa's commitment to the innovation of new products will continue, and we seek your understanding of the legal path we may be compelled to follow at times to protect our intellectual property rights.
With Best Wishes,
Sincerely,
Dr. Muhammed Majeed
Founder
Sabinsa Corporation